Uber Incentive Program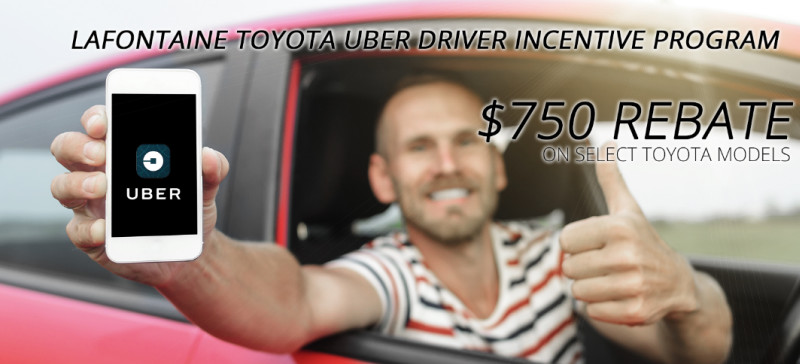 Program Guidlines
Program is compatible with other Toyota Incentives offered during the program period. Must take retail delivery from July 6, 2016 through October 3, 2016.
New, unused and unlicensed Toyota vehicle purchased from dealer's ground stock inventory.
Retail purchases are eligible for Toyota Care.
$750 on all model years:
- Camry (Gas & Hybrid)
- Avalon (Gas & Hybrid)
- Prius Family (Liftback, C, V, Plug-in)
- Corolla
- Sequoia
- Sienna
Customer Eligibility
Customers must:
1. Purchase or Lease a New, Unused or Unlicensed Camry, Corolla, Avalon, Prius Family, Sequoia, Sienna (as specified above) from ground stock inventory through a participating Toyota Dealer.
2. Provide a copy of their Uber Driver Profile page showing an ACTIVE status.
3. Incentive is available to any qualifying Uber Driver with and active status regardless of financing/leasing
source.